Service Hotline:
Email:
Address:
No. 115-4, Area A, Huitong Logistics Park, Economic Development Zone, Liaocheng City, Shandong Province
WHAT IS COLORFUL/COLORED STAINLESS STEEL
---
Colored Stainless steel coil Manufacturer, colorful stainless steel plate/sheet Stockholder, SS coil/ strip Exporter In CHINA.
1.General introduction
Stainless steel is a strong and highly durable material that is perfect to be used in interior and exterior constructions and design features. Using colored stainless steel sheets means that design professionals can integrate the element of color into their designs, instead of opting for the regular stainless steel look. Steel Color produces different types of colored stainless steel sheets, which are manufactured to the highest standards and from top quality materials.
2.How to make the stainless steel with colour
The manufacturing process of a stainless steel color sheet is not simply coated with a layer of color agents on the stainless steel surface, which can produce rich and vibrant colors, but it is achieved through very complex processes. At present, the method used is the acid bath oxidation coloring, generating the transparent layer of chromium oxide thin films on the stainless steel surface, which will produce different colors due to different film thickness when the light shines above.
The color processing for stainless steel includes shading and the dura mater treatment in two steps. The shading is carried out in the hot chrome sulfuric acid solution groove when stainless steel is immersed in; it will generate a layer of the oxide film on the surface whose diameter is only one percent thick of the hair.
As time goes by and the thickness increases, the color of the stainless steel surface will constantly change. When the oxide film thickness ranges from 0.2 microns to 0.45 m, the color of the stainless steel surface will show blue, gold, red and green. By controlling the soaking time, you can get the desired color stainless steel coil.
After subdural processing, the cathode, chromium oxide, and other stable compounds can be generated. It not only fills the tiny pores in the oxide film but also improves the wear resistance, corrosion resistance, and heat resistance of the oxide film, making the overall performance of the material greatly improved.
3.Colors of Stainless Steel for your reference
rose gold stainless steel sheets,
gold mirror stainless steel sheets,
coffee gold stainless steel sheets,
silver stainless steel sheets,
wine red stainless steel sheets,
bronze stainless steel sheets,
green bronze stainless steel sheets,
purple stainless steel sheets,
black stainless steel sheets,
blue stainless steel sheets,
Champagne stainless steel sheets,
titanium coated stainless steel,
Ti Colored stainless steel sheets
As a colored stainless steel sheets supplier, we can provide many colors for you to choose. If you don't find the colored stainless steel sheet you want, please let me know what color do you want. In order to meet the needs of different customers, we support color customization and send you free samples for your reference.
4.The colored stainless steel are widely used
The corrosion resistance and wear resistance for colored stainless steel sheet product surface is stronger than ordinary stainless steel, which can withstand more than ten years of salt spray corrosion and discoloration for more than 30 years on UV irradiation.
The main body integrates with the coloring layer, maintaining the basic structure and performance of the original stainless steel, which can process the conventional molding and stretch forming.
The coloration surface is featured by bright color, soft, strong, elegant finish, and other advantages. The color stainless steel sheet is widely applied in many fields, which can be used in elevators, hardware and home appliances, kitchen appliances, cabinets, architectural decoration, advertising signs, and daily necessities, etc. The value of the products is greatly improved, which has a significant market competitive advantage.
5.Advantages of colored stainless steel sheets
Color stainless steel decorative plate has the advantages of strong corrosion resistance, high mechanical properties; the color surface is prolonged and does not fade, the color changes with the angle of light tone, etc. Also, the colored surface layer of colored stainless steel decorative sheet is temperature resistant to 200″' and its salt and spray corrosion resistance is better than ordinary stainless steel, the good wear resistance and scratch performance are equivalent to the performance of the foil layer coated with gold.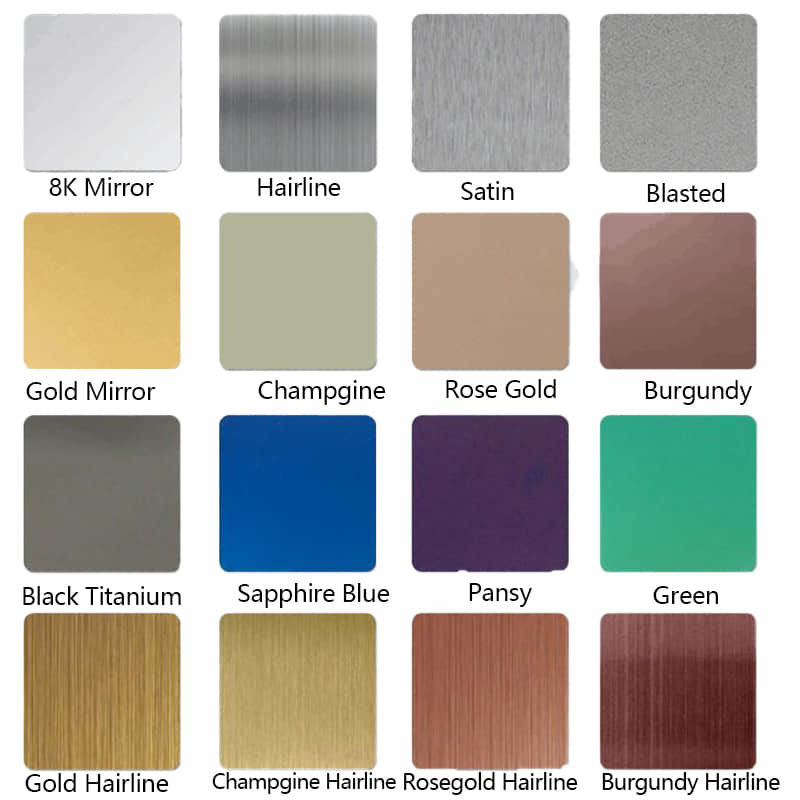 JINBAICHENG METAL MATERIALS LTD. is Manufacturer & Exporter of stainless steel coil /sheet/plate/strip.
We have customer from Philippines, Pune, Bengaluru, Dahej, Thane, Mexico, Turkey, Pakistan,Oman, Israel, Egypt, Arab,Vietnam, Myanmar, India, German, etc.
Website: https://www.jbcsteel.cn