Service Hotline:
Email:
Address:
No. 115-4, Area A, Huitong Logistics Park, Economic Development Zone, Liaocheng City, Shandong Province
What is a hairline finish of stainless steel?
---
Stainless steel coil Manufacturer, stainless steel plate/sheet Stockholder, SS coil/ strip Exporter In CHINA.
1.General introduction of hairline surface of stainless steel
Hairline finishing refers to "a design finish in which the surface of the metal is given a straight line of hair, like the straight hair of a long woman. It is a polishing technique that has been used since ancient times.
The hairline finish is a design finish in which the surface of the metal has a straight line of hair, like the straight hair of a long woman.
The hairline finish can be expressed in a variety of ways by varying the roughness of the straight polished grain. It is also possible to create a derivative design finish called a cross hairline finish by crossing the grain. By processing in a circular shape, a circular hairline finish like that of a vinyl record can be created.
It is the most commonly used surface treatment for stainless steel in construction and equipment. It is also very versatile, and is available in all thicknesses, widths, and lengths. Stainless steel grades such as SUS304 and SUS430 are available for almost all general purpose materials.
2.Two main types of manufacturing methods for stainless steel hairline
For general-purpose plate thicknesses and sizes, stainless steel coils with hairline finishes are made in advance by steel manufacturers and supplied to coil centers in each region to be formed into plates.
On the other hand, for special thicknesses or grades of steel, local polishers use their own hairline finishing manufacturing techniques to polish the coils. The difference is in the surface roughness and gloss. In the case of stainless steel hairline finish produced by steel manufacturers, the hairline finish is formed by the abrasive grain of the paper rotating in the polishing solution.
It is relatively easy to modify the welded portions of the hairline finish or to modify the bending of sheet metal processing, but it can be made even easier by using paper with the same grain size as that used in the manufacture of stainless steel hairline finish sheets.
3.Features
The hairline polished finish is a very simple and versatile finish. Anyone can easily polish small objects. Applicable materials are stainless steel, titanium, aluminum, copper, and brass.
Stainless steel hairline plates are usually made of SUS304 hairline material. You may be familiar with this product as it is commonly used in various applications. On the other hand, aluminum hairline sheets are quite different. Aluminum hairline sheets need to be undisturbed. Anodizing needs to be done after the hairline process on the raw aluminum material. Therefore, when making aluminum hairline products, the first step is to purchase raw aluminum hairline sheets, then cut and weld them, then correct the defective parts with hairline processing, and then anodize them.
Of course, it is also possible to use clear coating or color clear instead of anodizing.
One thing to keep in mind with aluminum hairline is that some manufacturers use oiled aluminum hairline manufacturing process. If this is the case, please note that degreasing is required after the final finish.
Although each manufacturer has different equipment, we are able to produce a wide range of products, including plates, square pipes, round pipes, channels, angles, and other shapes. There are many architectural components that use hairline.
Not only stainless steel, but also aluminum, brass, copper, and other materials can be used for these shapes and pipes.
However, for metals that corrode easily (copper and brass), it is very important to use a protective film after finishing. Also, please be aware that if the surface is corroded and becomes speckled, it will not be repaired until it is re-polished.
4.Variations
The hairline finish offers a wide variety of design expressions depending on how it is polished. It is very suitable for design expressions that can be drawn with lines, such as crosses, circumferential shapes, straight lines, and partial hairline finishes.
By selecting the grit size, speed, and method of polishing, artistic makeup and bold expressions are possible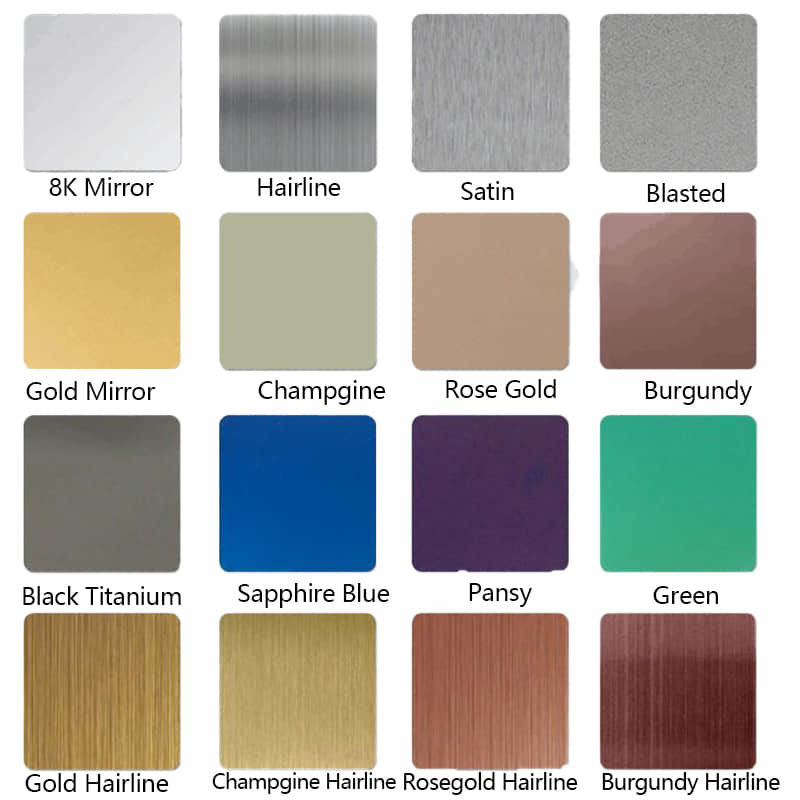 JINBAICHENG METAL MATERIALS LTD. is Manufacturer & Exporter of stainless steel coil /sheet/plate/strip.
We have customer from Philippines, Pune, Thane, Mexico, Turkey, Pakistan,Oman, Israel, Egypt, Arab,Vietnam, Myanmar, India, German, etc.
Website: https://www.jbcsteel.cn